Friends and associates of the late Professor Pius Adesanmi organised a candlelight event at the Gani Fawehinmi Park, Ojota in Lagos, on Saturday, 17 March 2019 to memorialise and celebrate his life and ideals.
The late Professor Pius Adesanmi was among the 157 passengers and crew members aboard the Ethiopian aircraft flight ET302/10 (Addis Abba to Nairobi) that crashed on Sunday, 10 March 2019, killing all on board.
Describing the late Professor Pius Adesanmi, Effiong Inibehe, a lawyer and human rights advocate, said the late professor was not just a great man, but a library razed, and will be sorely missed, not just by his family and friends, but by Africa as a whole.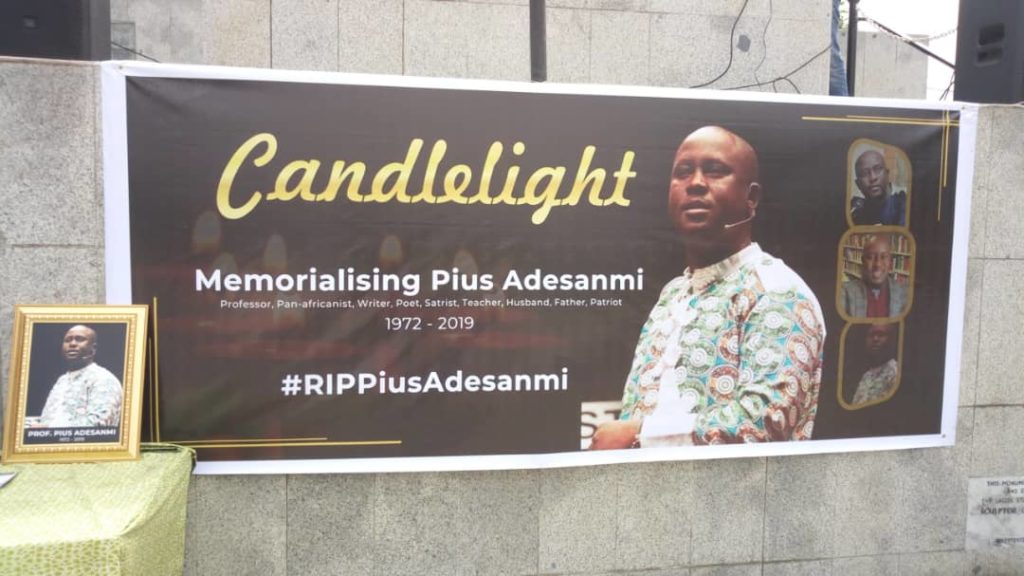 In his tribute, Femi Falana (SAN), a human rights lawyer, said that the late Adesanmi was a man of intellect and a writer who understood that beyond writing, a writer is one who can actualise his dreams to match with the people in their struggle for change. He also said that the family of Pius gave him as a gift to Nigeria; and as such, the family must be remembered and his children especially, well cared for.
Among other friends and associates who paid their tributes to late Pius Adesanmi were Ayo Obe, Demola Rewaju, Segun Awosanya, Femi Adeyeye, Olanrewaju Suraj, and Ogaga Ifewodo. Many of those had met him through his writing. Speaking from that standpoint, Ayo Obe, a lawyer and human rights activist, who had such fond memories of him, appreciated the fact that he knew how to deploy words as a weapon to address issues around his space.
Others present at the event observed that the late Pius Adesanmi fulfilled his mission on earth. According to them, he stood for justice and truth, and was fearless in doing so, especially with his satirical works, which spoke to the socio-political condition of the Nigerian state towards bringing about change and a better country for all.
The event was capped with a candlelight procession with some call and response dirges sung.