Nigeria is the fifth largest producer of Crude Oil in the world but 63rd on the World Economic Forum's Inclusive Development Index for Emerging Economies in 2018.
Since Shell Darcy discovered oil in Oloibiri in 1956, the stories that stem from the oil-producing areas of Nigeria have been those of continual deprivation and degradation — economically, physically and emotionally.
Although uncountable dollars have flowed from their grounds, poverty reigns and death continues to stalk these oil-producing communities. In a series of stories commissioned by the Wole Soyinka Centre for Investigative Journalism, it has been tales of continuous woes enabled by regulatory failures, corruption, and human rights abuses.
Vivian Oguche, reporting for Silver Bird Television tells a moving story of Gelegele, a community in Edo State. The story is one of untold hardship, ranging from lack of access to potable water, a dearth of fishes in rivers, sicknesses, and death, due to continuous exposure to gas flaring from a site operated by Dubril Oil Company Limited.
Roseline Okere of the Guardian Newspapers narrates the ordeal of the people living in Bodo Creek of Ogoniland, who fish in oil-infested waters as their long, painful wait for clean-up continues following two separate oil spills in August 2008, for which Royal Dutch Shell claimed responsibility.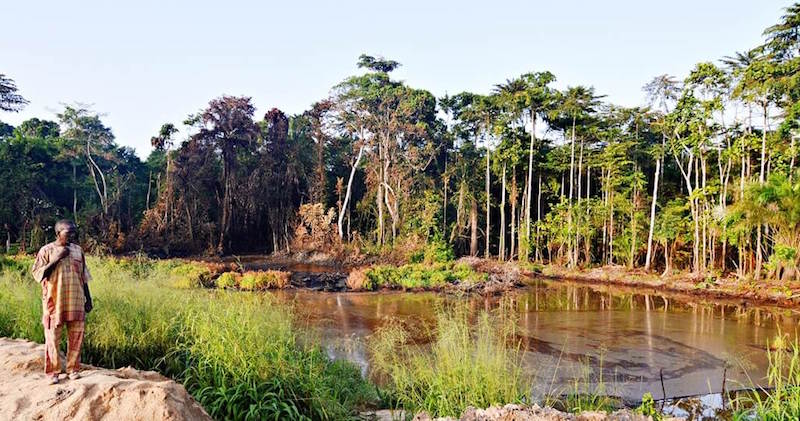 Fishing, the main source of income of the people has become impossible and people now suffer grave health conditions. Despite arrangements to ensure a cleanup of Bodo alongside other communities in Ogoniland, criminal activities including sabotage, theft, and artisanal refineries have become a source of concern to the general cleanup programme.
"None of our sons and daughters is good enough for Shell Petroleum Company and Total. Only our oil is good," His Royal Majesty, Eze Christian Ikemefula Ukaegu of Owaza community, in Abia State told Juliana Francis of New Telegraph.
Juliana Francis paints a picture of total helplessness, as Owaza community has virtually nothing to show for over 50 years of oil drilling on their land but sicknesses, deaths and poor farm yields.
Simon Echewofun Sunday of Daily Trust reports on how hundreds of Nigerians die annually in tanker infernos caused by lack of stringent transport policies. In 2017 alone, there were 308 tanker accidents, which led to over 100 deaths and many injured, including innocent travellers.
The poor nature of the highways across the country and the inoperative petroleum product depots are revealed to be the major contributing factors to the occurrence of oil tanker fires in many parts of the country.
Adenitan Akinola of Federal Radio Corporation of Nigeria tells the story of how inappropriate location of filling stations have exacerbated fire incidences and contaminated underground water in parts of Osun State, Nigeria.
Loss of lives, destruction of property and termination of businesses, are some of the expensive costs the residents continue to pay for marketers' indiscriminate siting of petrol stations close to their residences against the provision of the law.
Taking these stories into consideration, the country needs to beam a strong searchlight on the industry that is supposed to bring development but is apparently a source of degradation to the geese that is laying the golden eggs.