Kole Shettima, Director, MacArthur Foundation, Africa Office in Nigeria, has warned media proprietors and managers of the dangers inherent in over-dependence on a single source of income, especially from the government. He stated this while addressing heads of 26 media organisations across Nigeria, during an onboarding meeting of the Wole Soyinka Centre for Investigative Journalism (WSCIJ), under its Collaborative Media Engagement for Development Inclusivity and Accountability project.
Describing an independent media as the oxygen of Nigeria's democracy, he pleaded that the industry must not allow itself to be captured and controlled by the ruling elites, and must be protected at all costs.
His words, "If we do not have an independent media that holds the government accountable, democracy will collapse. The media was the vehicle that supported pro-democratic movement organisations in the country. The media is the oxygen of our democracy, and we need it for our democracy to thrive."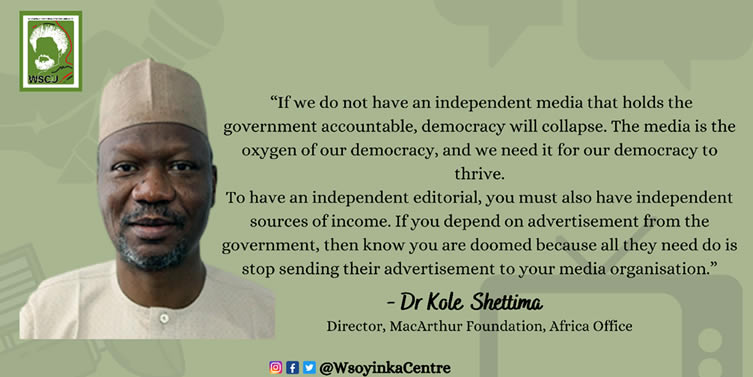 He advised the media owners and managers to create multi-streams of income generation through subscriptions, membership, advertisement, and others to guarantee their survival and independence as the protector of civil liberty.
Shettima added: "If you want to have an independent editorial, you must also have independent sources of income. If you depend on an advertisement from the government, then know you are doomed because all they need do is stop sending their advertisement to your media organisation. All the major newspapers we are talking about have collapsed because the revenue system has changed, and the COVID-19 has dramatically changed everybody's life.
"New York Times, The Guardian, and others, as we may well know, are the ones that have taken the lead in that direction. They do not have to worry about where funds will come from because their subscribers and donors are more than enough in terms of the revenue needed."