'Masked, not silenced' is the theme as the Wole Soyinka Centre for Investigative Journalism, WSCIJ marks the 15th anniversary of its award programme with a conference and public presentation of prizes. The conference will hold on Monday and Tuesday as webinars on Zoom from 1 pm to 2:30 pm, while the 2020 public award presentation of the Wole Soyinka Award for Investigative Reporting will be a physical event with strict COVID-19 rules, on Wednesday 9 December from 4 pm to 6 pm at the NECA hall, Agidingbi, Ikeja.
The theme has been carefully chosen to address the effects of COVID-19, the repression of freedom of expression and attacks on the news media in Nigeria and Africa. Over the three-day event, media professionals and enthusiasts will speak to the status of legal frameworks for press freedom, the pandemic, protests and other sustainability factors that adversely affect the news media in the country. They will also discuss ways the Nigerian media has survived despite these odds as well as chart a way forward for the future.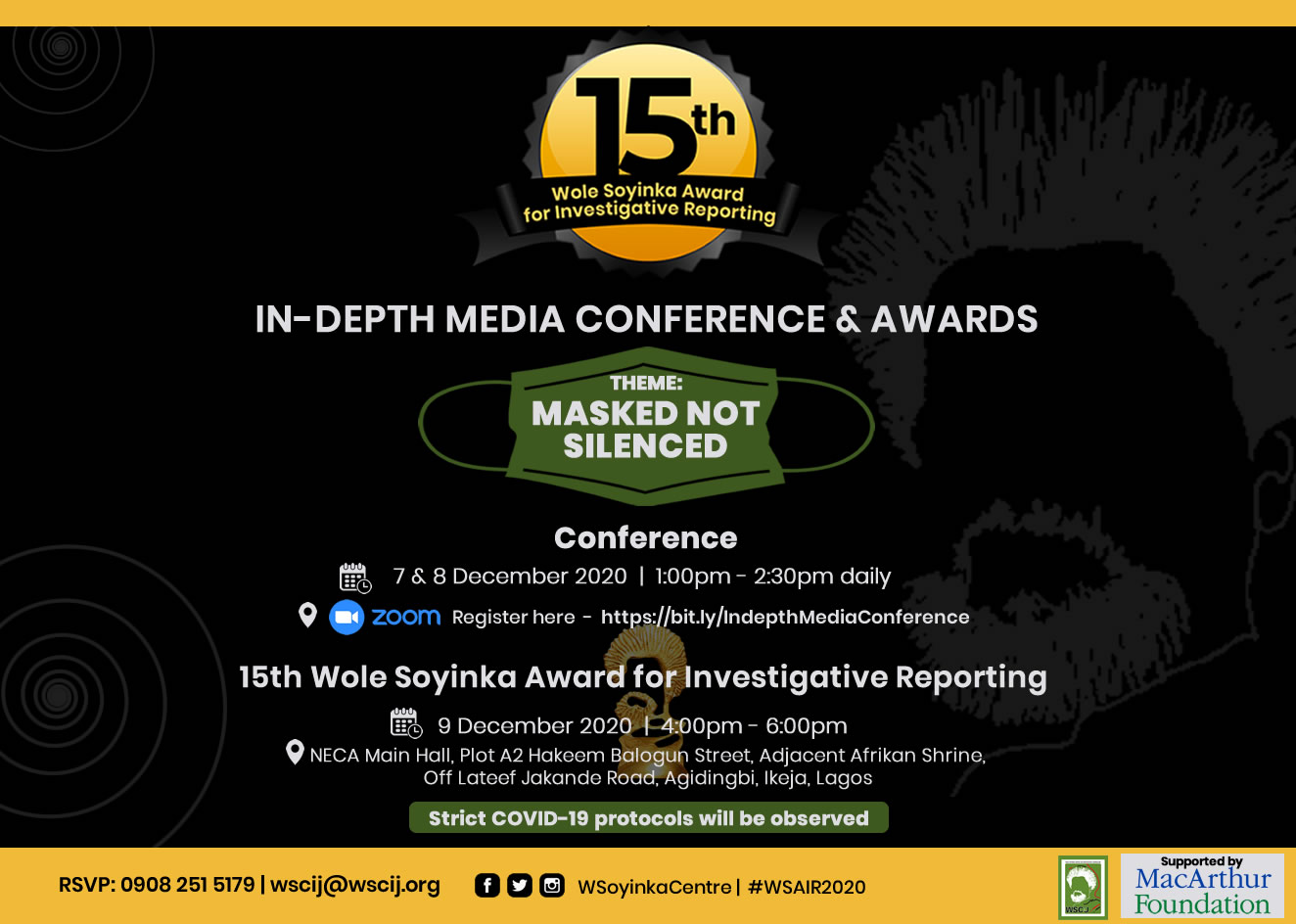 Discussants at the conference and awards include Simon Kolawole, founder and chief executive officer, The Cable newspaper; Ruona Meyer, freelancer and award-winning journalist; Ibanga Isine, managing editor, The Next Edition newspaper; Amina Yuguda, award winning broadcast journalist; Dapo Olorunyomi, publisher Premium Times; and Motunrayo Alaka, executive director/CEO, WSCIJ among others. Tolu Adeleru-Balogun, head of presentations, News Central TV and Mayowa Tijani, business and development editor at The Cable, will moderate sessions.
Interested participants may register to attend the conference through https://bit.ly/IndepthMediaConference. Data support will be given to the first 100 journalists who register and attend the conference on both days. The award presentation event which will hold physically at the NECA hall with strict COVID-19 protocols will also be free to attend.
The Wole Soyinka Award for Investigative Reporting launched in October 2005 as the flagship annual programme of the WSCIJ. The conference is introduced this year as a build-up to the award programme to provide a platform for journalists, media professionals and other stakeholders to reflect on the state of the media profession, sustenance of ethics, investigative reporting and related issues in Nigeria, Africa and globally.
The event is open to the media, industry experts, private sector leaders, government ministries and agencies, pressure groups, policy makers, students, members of the diplomatic corps, stakeholders in the civil society and other interested members of the public.
Signed:
Motunrayo Alaka
Executive Director/CEO, WSCIJ